If there isn't a better way to wake up!?! It's when I wake up to find out that my Blushing Bouquet was in the
top 3 at SUO challenges
. I only rather recently discovered their challenges and quite enjoy a place that celebrates Stampin Up! products, regardless of whether they are retired or not.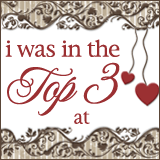 The other entries were all so lovely, you must check them all out. I discover the coolest blogs I never knew existed whenever I check out the work of other challenge entries. So many creative ways of using ribbon, colour, layouts, I actually do get lost in them for hours.
Have a great day and I hope something unexpected pops up into your life and gives you a real smile today too!